Services
At Element Outdoor Design & Build we provide our clients with the following services throughout greater Rolling Hills Estates, Rolling Hills, Rancho Palos Verdes, Palos Verdes, Palos Verdes Estates, Redondo Beach, Manhattan Beach, Hermosa Beach, Torrance and Lomita, CA: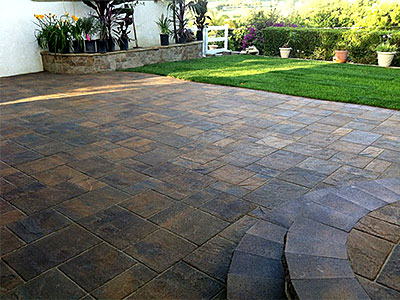 Pavers
We believe that pavers are the ideal flooring material for all of your outdoor projects including driveways, patios, walkways and pool decks. Not only do they make for an aesthetically pleasing application but they are also extremely durable, low maintenance and very easy to install. Belgard produces some of the most elegant looking and functioning paving stones in the world. Read More »


Retaining Walls
Is your property in need of a retaining wall? Are you worried that it will look boring and mundane? Well don't fret any longer because we can show you a wide range of retaining wall products from Belgard that only perform well but will also enhance the look and feel of your property. Talk to one of our friendly team members today and we will arrange a free consultation for your next retaining wall project! Read More »


Hardscaping
When it comes to hardscaping we are the right company for the job. Our teams of contractors have decades of experience custom designing and building some of the most beautiful and innovative hardscaping elements you have ever seen. So if you are in the market for a BBQ island, outdoor kitchen, fire pit, outdoor fireplace, brick work, fencing, woodwork, pool deck or water feature; then contact us today and we will get your new project started right away. Please browse through our portfolio to see some of the beautiful features that we have created for our clients over our many successful years in business!


Water Features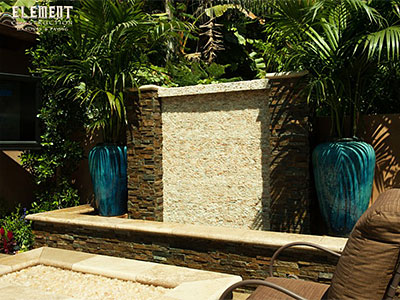 The water element adds a very dramatic look to a landscape. Most property owners in California like to get waterfalls, ponds, streams or fountains installed in outdoor spaces of their home. Since we custom-design these features, you can rest assured they will be unique and attractive in every way. Whether you want a rock waterfall or a natural stone fountain installed, we will design features that complement the look of your landscape and create a very enjoyable and refreshing environment on your property. We use the best outdoor grade materials in the work, ensuring that your waterfall, fountain or pond would last for a number of years with very little maintenance. Read More About Water Features »


Fire Features
Getting a fire feature installed in your landscaping is a great idea. As a company that provides comprehensive hardscaping services, we can design and install different types of fire features such as fireplaces, fire pits as well as fire tables, fire bowls and fire columns etc. When it comes to creativity and style, our designers are unbeatable in their skill levels. They can create the most amazing fire features that are a reflection of your style and preferences. We can build fireplaces and fire pits made of brick, natural stone or concrete and can clad these with stone veneer etc. Read More About Fire Features »


BBQ Islands
A BBQ island is a great addition to your California home. This feature is highly functional and an excellent way to create a relaxation and socialization zone on your property. We have the creativity, skill, and experience to design and build BBQ islands that will be amazing to use and beautiful in appearance. Regardless of whether this feature is being designed as part of a larger hardscape project or a landscape upgrade job, you can rest assured that top quality materials will be used in the work. We have skilled artisans that can construct the best BBQ islands based on the designs and plans our designers provide. Read More About BBQ Islands »


Landscape
If your property has some outdoor spaces, you would want to get the right kind of landscape installed. Landscape design and planning isn't an easy job and it is important to hire experts like us for the project. We have the skill and creativity to provide unique and attractive landscape designs and plans based on your requirements and the overall layout of your property. We help with designing all the hardscape and softscape areas and handle every aspect of the project to perfection. We will help you with plant and tree selection and install sod lawns on your property as well. Read More About Landscapes »


Pergolas
When it comes to outdoor structures, pergolas are a very popular feature that property owners install in their yards. These features are simplistic in design, but lend a very charming look to the space. Installing a pergola is a great way to add a certain amount of shade to your yard spaces. This slatted structure can be built above a patio, deck, poolscape area or any other setting in the landscape. You have the option to get the pergola covered in order to create a completely shaded space as well. When we design this feature for you, you can rest assured that it will complement the other elements in your landscape, and provide the functionality you need. Read More About Pergolas »


Decks
Many residential property owners like to get deck installations for their yard. This feature will be custom designed for you and can be built to lead out from various indoor areas of your home. Today there are a large number of materials to choose from such as hardwood, concrete, composite etc. If you prefer, we can also use combination materials to create the kind of deck that can be a true reflection of your good taste and style. We understand that these features are constantly exposed to the elements and the California sun. This is exactly why we focus on using the best outdoor grade materials in the work and never compromise on the quality of the craftsmanship. Read More About Decks »


Fencing
When you move into a new home, one of the first things you want to do is to secure your property well. We provide customized fence design and installation solutions to residential clients across the region. Our team of experts can design different types of fences made with a range of materials including concrete, brick, natural stone, grillwork, wood etc. Regardless of whether you want a privacy fence with wooden boards or a grillwork fence with half height stone walls, we can design and install the kind of feature you need. We have vast experience working with all types of materials and can provide you the best services at the most cost-effective pricing. Read More About Fencing »

We at Element Outdoor Design & Build are committed to providing clients with the top quality landscaping and hardscaping solutions at the most competitive pricing. If you are looking for top great workmanship and the best customer service, we are the company to call. Feel free to contact our experts at this number - 310-539-3050 or send us your project details via this Contact Us form.